Mandolin Stands
~ NEW ~
Mandolin stand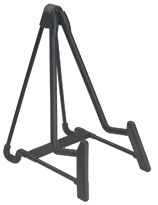 This elegant and lightweight aluminum mandolin stand has a bottom flap hinge for instant setup.
ALL instrument support parts are covered with a special non-slip coating to protect your mandolin.
The compact, folding design makes it easy to transport and store.

Price: $39.95
Includes shipping & insurance
Contact: to order.
---
~ Mandolins & More~
Walton, KY 41094

Please call or email for an appointment.
So you can experience the instruments
and receive personal attention without interruption.
In other words...
You'll essentially have the shop all to yourself.
Jeff Cowherd
Phone #s:
(859) 801-9581
(859) 356-0201
Copyright 1999-2009 by Jeff Cowherd. All Rights Reserved